11.07.2019
Charles Metz, Paul McNulty & Viiana Sofronitsky
This class explores the insrtument and its use, with an emphasis on how piano development between 1805 and 1812 mirrors compositional stule and texture over the same period. Our second class will demonstrate soup to nuts set up and regulation of the Viennese mechanism.
10.07.2017
Foundation Concert Malcolm Bilson and Paul McNulty
Join us for a once in a lifetime opportunity to hear world-renowned Malcolm Bilson, one of the foremost proporonents of the use of period pianos. He will performon a reproduction of an 1826 Buchholtz grand piano, built by Paul McNulty. We are very excited to have the genios of Malcolm Bilson nd the piano building genius of Paul McNulty come together for this concert at the 2019 PTG Convention.
10.07.2019
Favorite Pianos of Great Composers. Paul McNulty & Viviana Sofronitsky
You will hear a description and concert-demonstration of two different fortepianos illustrating the music appropriate t each and performed by Viviana Sofronitsky. The effects these instruments can produce were familiar to the composers who wrote for them but have been absent from any piano made after 1850.
14.07.2019 
Maintenance for the Fortepiano
Paul McNulty 
We'll do a maintance survey particular to the Viennese design. The class will also feature advice and demonstration on tuning, temperaments. voicing, strings, leatther. felt. repairs,etc.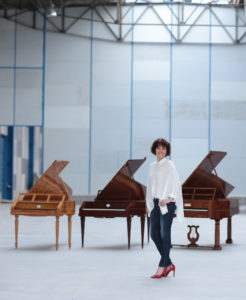 04.07.2019 – 04.08.2019 – Paul McNulty is piano meantanens tour. If you intersted please contact us:  info@fortepiano.eu & v.sofronitsky@web.de