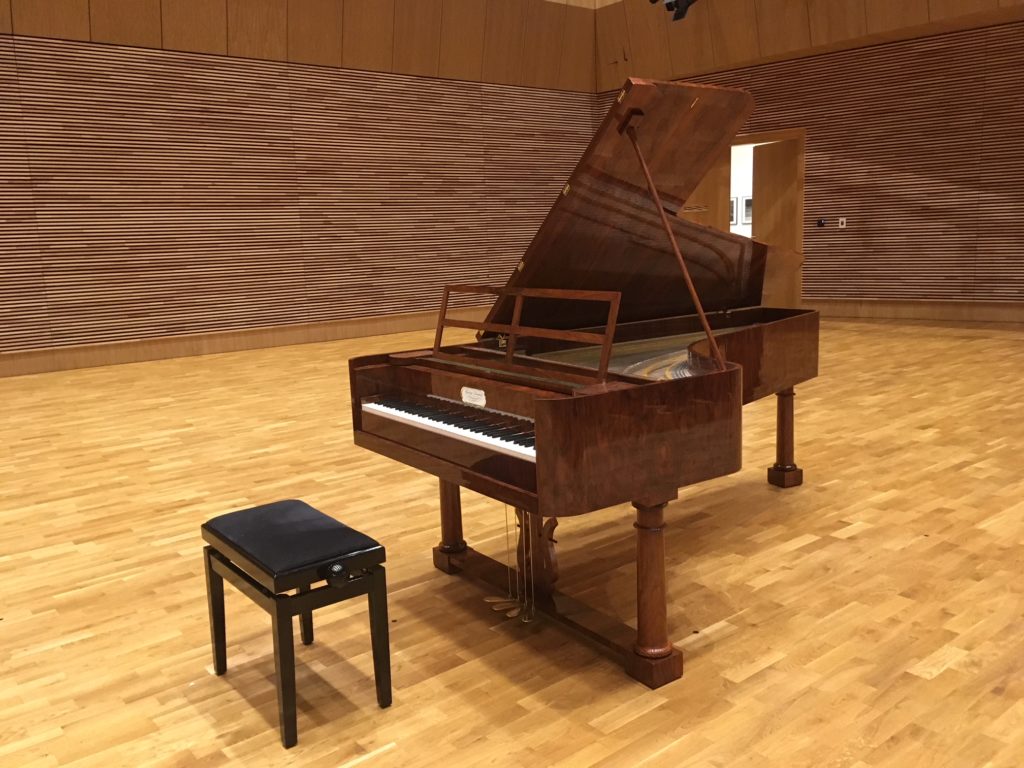 The National Fryderyk Chopin Institute and the Grand Theater — National Opera invite you to the first presentation of a copy of the Buchholtz piano — the Warsaw Chopin instrument, which will take place on March 17, 2018 at the Teatr Wielki — Polish National Opera.
This unusual event will refer to the famous concert of Chopin in the National Theater at Krasińskich Square, where also on the Buchholtz piano, on March 17, 1830, the young composer made his Piano Concerto in F minor.
Around 1815, the licensed organ officer Fryderyk Buchholtz opened a piano production plant in Warsaw, whose first headquarters was located in the building at ul. Mazowiecka No. 1352. In the factory shop Fryderyk Chopin was a frequent visitor , who passionately tried various instruments. In 1830, Buchholtz made the order of a fastidious young pianist, constructing for him a modern piano modeled on Viennese Streicher. The instrument was placed in the salon of the Chopin family at 5 Krakowskie Przedmiescie. «It is good to play on it» — wrote the composer in one of the letters. Young Fryderyk used this piano very often, and this was the period of his first great compositional successes.
On November 2, 1830, Chopin left Warsaw, three days later he left his homeland forever. Buchholtz's piano was received by the composer's sister, Izabella Barcińska. In September 1863, the tzar soldiers in retaliation for the assassination of Gen. Fedor Berg were plundered by the Zamoyski family palace at Nowy Świat. From apartment 69, belonging to the Barciński family, Chopin's piano was thrown out of the window on September 19.
The teenage composer created his first great compositions using the Buchholtz instrument, and in that tone he heard his own works for the first time. To date, only single instruments of this brand have survived — all in a state that prevents them from being resurrected. Using the available prototypes, the Fryderyk Chopin Institute, having in its collections a collection of contemporary instruments for the composer, ordered a copy of Buchholtz's piano; it was created by Paul McNulty, one of the best currently builders of historical pianos in the world. The work was financed by PKN ORLEN — Patron of the Fryderyk Chopin Institute.
Almost two centuries after the premiere of the Piano Concerto in F minor, which took place on March 17, 1830 at the National Theater at Krasińskich Square (the composer himself played at Buchholtz), this song will sound again on the copy of the Warsaw builder's instrument. For the first time in modern times, we will hear the sound of the piano, which occupied such an important place in Chopin's musical imagination. It will also be a symbolic recall of the evening, which for the Poles of the nineteenth-century Warsaw was far more than just a unique artistic experience.
Program:
• A documentary about the creation of a copy of Buchholtz's piano
• Karol Kurpiński, Fuga and the coda in B flat major (on the theme «Poland has not died yet»)
• Karol Kurpiński, Battle of Możajskie («The Great Symphony, An Imaging Battle»)
• Fryderyk Chopin, Piano Concerto in F minor, Op. 21
Performers:
• Krzysztof Książek — historical piano
• Collegium 1704
• Václav Luks — conductor